June 2023 Update
I am pleased to bring you my June 2023 Update. As ever, if you would like to sign up to my mailing list, you can do so on this page or by emailing david.simmonds.mp@parliament.uk. 
Dear constituent, 
In June, we had the publication of the Privileges Committee report on the conduct of the former Prime Minister, which was followed by a vote in Parliament. I have consistently been clear about my views on this matter, fully accepting the Committee's conclusions and publicly supporting them.
In response to the findings of the Privileges Committee, my constituency neighbour Boris Johnson resigned as MP, triggering the by-election in Uxbridge and South Ruislip. Residents will not be surprised to learn that I am supporting Cllr Steve Tuckwell in his campaign to become our neighbouring MP and to continue the fight against Mayor Khan's ULEZ expansion. 
The work has continued in both Westminster and in the constituency over the past month, which I am pleased to share with you in this June update. 
As ever, if you would like to keep up to date, I encourage you to visit my website, or Facebook page. 
­
In the Constituency
Surgeries 
My weekly surgeries have continued this month. Residents have raised with me a plethora of concerns and issues, and I have been able to offer my support as local Member of Parliament. 
I am grateful to the teams at Cafe Hills in Northwood Hills, We Love Coffee in Harefield, Vito's Cafe in Ruislip and Village Express in Northwood for hosting me this month. 
If you would like to make an appointment to meet with me at a future surgery, please email david.simmonds.mp@parliament.uk or telephone 0203 545 2462. ­­­
­
­
­­With ward councillor Jane Palmer, who joined me at my surgery in Harefield this month
­
GP Visits 
Residents may recall that in December I invited GPs across Ruislip, Northwood and Pinner to attend a virtual surgery to discuss the challenges they were facing. I was interested to follow this up with some visits so that I could see first-hand the situation on the frontline. 
Over the past month, I have met with Rupal Nathwani, Practice Manager at the Eastbury Surgery, and Professor Ian Goodman, Partner at the Mountwood Surgery, both in Northwood. 
These visits facilitated productive conversations about the challenges facing the surgeries, including staff retention and managing the pandemic backlog. It was also an opportunity for me to see the day-to-day running of the practices, and for staff to share their insights with me on things such as vaccination. 
I am grateful to those who took the time from their busy morning to speak with me, and will ensure that the points raised are shared with colleagues in the Government. ­­­
­
­
­­­­
­
­­
With  Rupal Nathwani at the Eastbury Surgery in Northwood (top) and with Professor Ian Goodman at the Mountwood Surgery in Northwood (bottom)
­
Pharmacists Virtual Surgery 
As Member of Parliament, I always seek to engage with local stakeholders whether they are businesses, charities, or public sector workers. One such group are the owners of local pharmacies, who provide a vital service to my constituents and the local community. 
It goes without saying that first the pandemic and now the cost of energy have had an adverse effect on the industry. While we rely on pharmacists more than ever, it is clear that many are struggling. As such, I invited local pharmacy owners to attend a virtual surgery so that they could voice their concerns. 
Residents will know that a number of pharmacies have had to close their doors over the last few years, and I am keen to protect those local practices who serve my constituents. 
The virtual surgery was well-attended by representatives from a number of pharmacy services across the community. It was an enlightening surgery and gave me a useful insight into the challenges they face. It is clear that there is a lot to feedback to my colleagues in Government. 
I am grateful to all those who joined for taking the time out of their busy morning to speak with me, and I will ensure to keep them abreast of updates and developments.
It was also useful to drop in to see Rikin Patel from Sharmans Pharmacy in Northwood, following my recent surgery in the area, and to see the running of the surgery first-hand. 
With Rikin Patel from Sharmans Pharmacy in Northwood 
­
National Lottery Funding
I have written before about the National Lottery Community Fund, which awards grants to organisations in the UK to help improve their communities. 
Locally, there have been many examples of success stories. This includes a successful bid from ARFID Awareness UK, a charity co-founded in the constituency which aims to raise awareness about Avoidant/Restrictive Food Intake Disorder. I recently met with Stacey Lambert, both an Ickenham resident and co-founder of the charity, to understand more about their and how the funding will be used. 
I was interested to learn about the challenges of ARFID, its diagnoses and treatment, as it has so often been labelled as 'picky eating'. However, it is much more complex than that and whilst the exact causes remain unknown, it is thought that people who develop ARFID do so because of sensory sensitivity, fear of negative consequences and a lack of interest in eating. 
The funding will support the ARFID Awareness Resources project, providing resources that are fundamental in helping families to navigate their child's diagnosis, and for young people who themselves have been diagnosed. 
Challenges remain, however, in terms of official guidance being issued with NHS bodies on ARFID. Following my meeting with Stacey, I have written to the Department of Health and Social Care to gather what progress has been made in this area, and will share the response once it has been received. 
Furthermore, I have also connected Stacey with Dr Menakaya, who residents may recall is a Consultant Paediatrician at Hillingdon Hospital and an expert on care of neonatal children. I look forward to following the progress made in raising awareness both locally and nationally. 
With Stacey Lambert, Ickenham resident and co-founder of ARFID Awareness UK
I was also pleased to learn that National Lottery Funding supported events that took place in the constituency as part of the Mayor's Community weekend. 
With one of the largest cohorts of military children in the Hillingdon borough, Glebe Primary School's event brought together the military community, as well as the old and young, celebrating strength and diversity within our community. 
The Arts for Life Project (UK) supports young people and their families' emotional health and wellbeing through the therapeutic value of the creative arts. The funding contributed towards a community picnic in Montesole Park for those who benefit from their support locally.
I hope that both events went well, and were widely attended. 
­
Harrow Council
I recently met with Harrow Council's Director of Education, Patrick O'Dwyer, and cabinet member for Children's Services, Cllr Hitesh Karia, at the new Harrow Civic Hub. 
We discussed the need to ensure there are enough school places for children with special educational needs and disabilities, following the Council's bid for the Department for Education's special free school programme.
With a background in children's services at local authority level, this is an issue in which I take great interest and one I continue to raise in Parliament on behalf of residents across the Hillingdon and Harrow boroughs.
With Cllr Hitesh Karia and Patrick O'Dwyer at the new Harrow Civic Centre Hub
I also used the opportunity to catch up with Leader of the Council, Paul Osborne. I was interested to learn that the new logo for the council was designed by local student Kareena Ravaliya¸ and incorporates an updated version of the civic coat of arms, reflecting Harrow's diversity in the 21st century.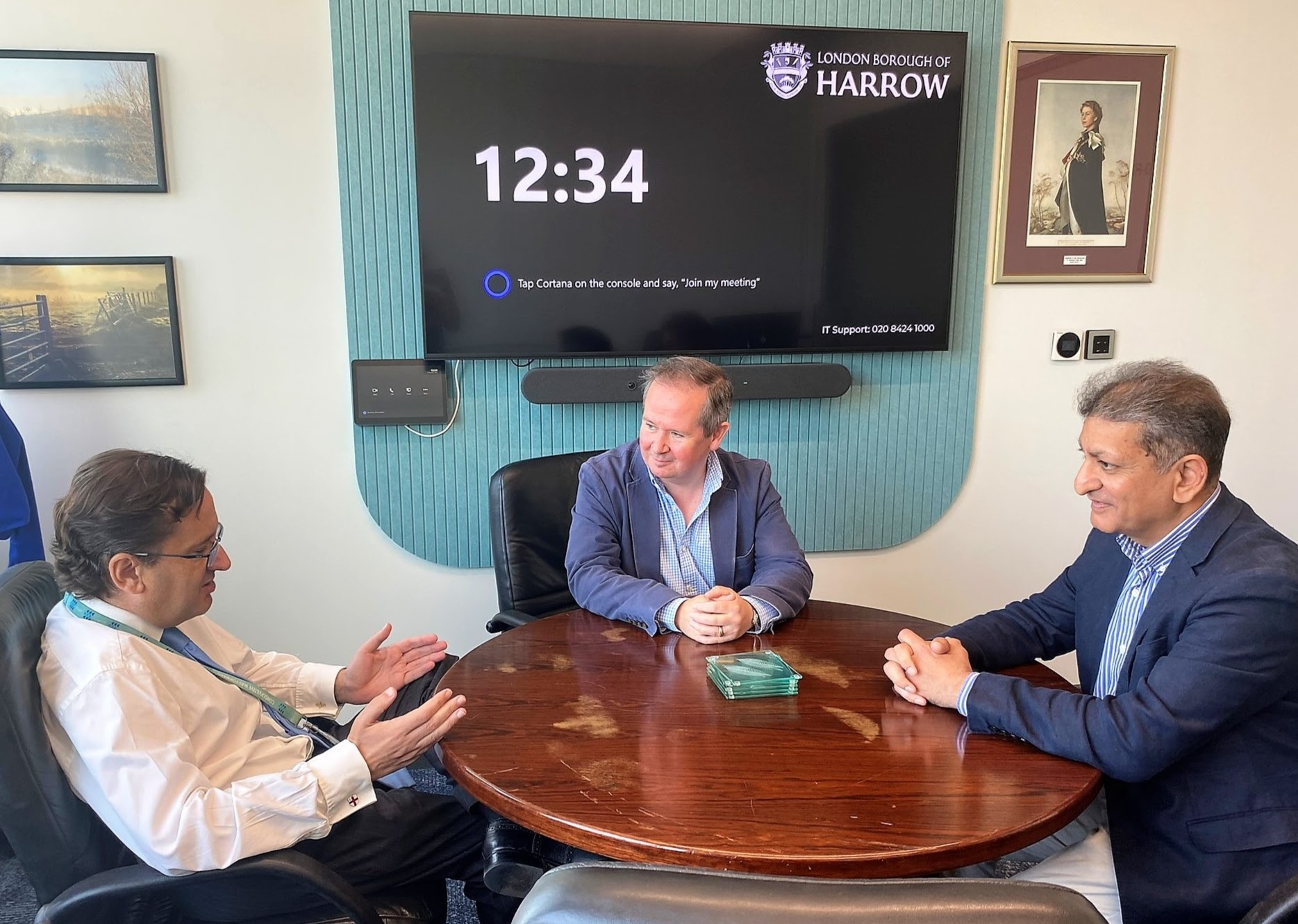 Catching up with Leader of the Council, Paul Osborne 
­
Northwood Recreation Ground 
We are very fortunate to have so many fantastic greenspaces on our doorstep here in Ruislip, Northwood and Pinner. 
One of these is Northwood Recreation Ground, where I was delighted to meet with volunteers. Supported by Hillingdon Council, they are doing a fantastic job to maintain the ponds at this popular spot.
Northwood Recreation Ground is enjoyed by many residents. Not only is it home to Northwood F.C, it also has facilities for tennis and cricket, allotments, an outdoor gym and playground. 
I am grateful to the volunteers across the constituency who work hard to maintain our parks and greenspaces for residents to enjoy, particularly during the warmer and sunnier months. 
Joining volunteers at Northwood Recreation Ground, who do a wonderful job in maintaining the area
­
Residents Association Meeting 
Tenant and residents' associations act as a voice for the residents they represent and are fundamental in making a difference to our local community. 
It was good to catch up with Resident Association Chairs serving wards within the constituency. In the meeting, we managed to cover a lot of ground and had a productive conversation about the key issues impacting individual areas, as well as the wider community. This included local and national planning policy, flood prevention measures and neighbourhood policing. 
As discussed, I will ensure that concerns are shared with Ministerial colleagues, and I will also work with local policing teams to ensure that engagement between them and the residents they serve remains open. 
I am grateful to all for their time, and I look forward to catching up again in due course.  
Catching up with Residents' Association Chairs across Ruislip, Northwood and Pinner 
­
Care Home Week 2023
Towards the end of the month, I was invited to attend The Harefield Care Home's summer party as part of Care Home Week 2023. It was great to see the care home decorated with bright colours inside and out, and residents in high spirits with a BBQ and entertainment for all. 
I was pleased to meet with the residents, care home staff and management, to hear about the care they give their residents. It is clear that the staff care passionately about the residents, and I am grateful to all of them for their commitment. I had a number of interesting conversations with residents, many of whom have lived locally throughout their lives. Later in the event, children from a nearby primary school came by with presents for the residents. 
The event served as an important reminder that The Harefield Care Home are there if support is needed, and from the level of attendance it is clear that the feeling is mutual. 
At Harefield Care Home as part of Care Home Week 2023
­
SEND School Sight Test: Update 
Residents may recall that last year I visited Pentland Field School in Ickenham with representatives from the charity Seeability, who work to support adults with learning disabilities and sight problems, as well as provide sight tests for children with more profound disabilities. 
The charity's work highlights the value of regular eye tests in early childhood, particularly those with SEND. They are one of the highest risk groups, but often face additional challenges in accessing sight testing service via opticians, meaning that any sight issues may remain undiagnosed. 
Following calls for a national scheme, at the time of the visit, Seeability were using an NHS contract to be able to carry out eye tests in special schools across London. However, concerns were raised about a possible reneging on the commitment for the contract to become long-term. 
Together with colleagues, I raised these concerns in Westminster. I met with Neil O'Brien, Parliamentary Under Secretary of State at the Department of Health and Social Care, and pressed the Education Secretary, Gillian Keegan, during Education Questions. I wanted to gain assurances that services that have already been established in day special schools were able to continue and not be taken away from those who need it most. 
Following this work and Seeability's campaign, I am delighted by the Department of Health's announcement that free NHS sight tests will be made available within all special school settings. The Government has worked with NHS England to extend this important service and to ensure those who need it most still are able to access it. This is a huge win for those who benefit from this service in the constituency, and up and down the country. 
­
In Parliament
PMQs
MPs have the ability to ask questions to the Prime Minister periodically via a ballot. As my constituents will know, I try and use these appearances to raise the most critical issues affecting those in Ruislip, Northwood, and Pinner. 
One of these issues, which I have heard from a number of constituents about the importance of Uxbridge police station. As a local resident myself, I know how vital it is that police continue to have a presence in Hillingdon, reassuring constituents that they are being kept safe. The police station only remains open thanks to the excellent work of local councillors who have fought Sadiq Khan's plans to close it.
Cllr Steve Tuckwell, alongside all Conservative Councillors in Hillingdon, have been leading a campaign for the last six years to prevent its closure. The station has been vital for local operations for decades, allowing my constituents to report crimes in person and engage directly with the police. 
After a period of sustained investment by the Government, it is a tragedy that the Mayor continues his campaign to shut the police station. I am grateful for the work of Hillingdon council who continue to fight the decision, but this month I had the opportunity to ask the Prime Minister about his position on the matter.
I was delighted to learn that the Prime Minister is supportive of this campaign, among other campaigns that we are leading locally. Whether it is the police station, construction of Hillingdon Hospital or opposition to Sadiq Khan's ULEZ expansion, Hillingdon councillors continue to fight for local residents.
At the time, the Mayor was resolute on his decision to close the police station. Yet as we now know, on Monday the Mayor announced his decision to keep the station open. While I am incredibly relieved that the Mayor has made this U-turn, I remain concerned that this move is nothing but a cynical political move to support his candidate in the Uxbridge & South Ruislip by-election. If the Mayor is sincere, I trust that he will provide us with assurances as to the long-term plan for the station and go further to support other police stations across London threatened with closure. 
You can watch my question to the Prime Minister here. 
­­­­
­
­­­­
Education
I am always eager to raise issues relating to education in parliament. This month, I had the opportunity to speak in a Westminster Hall debate on the number of pupils in school in London and the places available for them. 
While on Hillingdon Council, I served as Cabinet Member for Education and, engaging with the Building Schools for the Future programme in that time, I have seen schools close and other schools open as demand in Hillingdon has risen and fallen over time.
There has constantly been a cycle of variation in the number of places required in London, so I was glad to have the opportunity to speak in the debate on this subject. As I mentioned in my speech, one area of emerging challenge is in respect of SEND places.
As colleagues also remarked, this is a vital sector; one that defines the life chances for many children across the country. I have heard recently from a number of local SEND providers of the challenges that they face with funding. This comes despite research undertaken by London Councils to show that while demand for school places on the whole is falling (15% in Hillingdon alone), SEND demand continues to rise.
Concluding my remarks, I focused on what steps should be taken to support pupils, teachers, and parents right across London. My first ask was that Ministers reconsider their approach to working with local authorities – allowing flexibility with the funding budgets. Secondly, I asked them to again work with local government to allow for greater strategic planning when dealing with the provision of SEND places. Finally, I asked the Minister present in the debate to bear in mind the inevitable swing in population size in the capital to ensure that we are ready for future population growth.
If you would like to watch my contribution to the debate, you can do so here. ­­­
­
­
­­­Separately, I had the opportunity to push the Leader of the House of Commons, Penny Mordaunt, about funding for SEND schools. I asked the Leader whether we could have a Minister come to Parliament to deliver a statement on this subject. I did this after hearing from headteachers of schools in Ruislip, Northwood and Pinner that provide specialist SEND support. These headteachers are concerned about the implications of insufficient short-term funding for their schools. I therefore asked whether a Minister could examine this issue and update MPs with their findings.
The Leader outlined the support the Government has given to SEND providers and a commitment to go further. I was also encouraged that the Leader wrote to the Secretary of State for Education, asking her to consider my question. This exchange can be viewed here. 
­
Transport
I know from my conversations with constituents that our proximity to Heathrow can be both a blessing and a curse. While aware of the air and noise pollution caused by the airport, a number of my constituents benefit from its activities. Heathrow employs thousands of people, a number of whom live in my constituency. It for these reasons that I often seek to work with senior staff at the airport, along with Ministers in Government, to tackle the issues presented to us.
Earlier this month, I had the opportunity to raise my concerns about the cost of Heathrow airport for business owners who live in the constituency. Having recently heard from a number of concerned stakeholders, I pressed the Secretary of State for Transport on how regulation could be used to prevent costs from increasing further.
In his response, the Secretary of State offered me reassurances that there was a process for how the fees at Heathrow are capped. Highlighting the CAA's role in this matter, I was reassured that there is already a process by which complaints can be logged.
In my role as MP, but also as co-chair of the APPG on Airport Communities, I am confident that there is an amicable solution to this issue. 
You can watch this exchange here. ­­­
­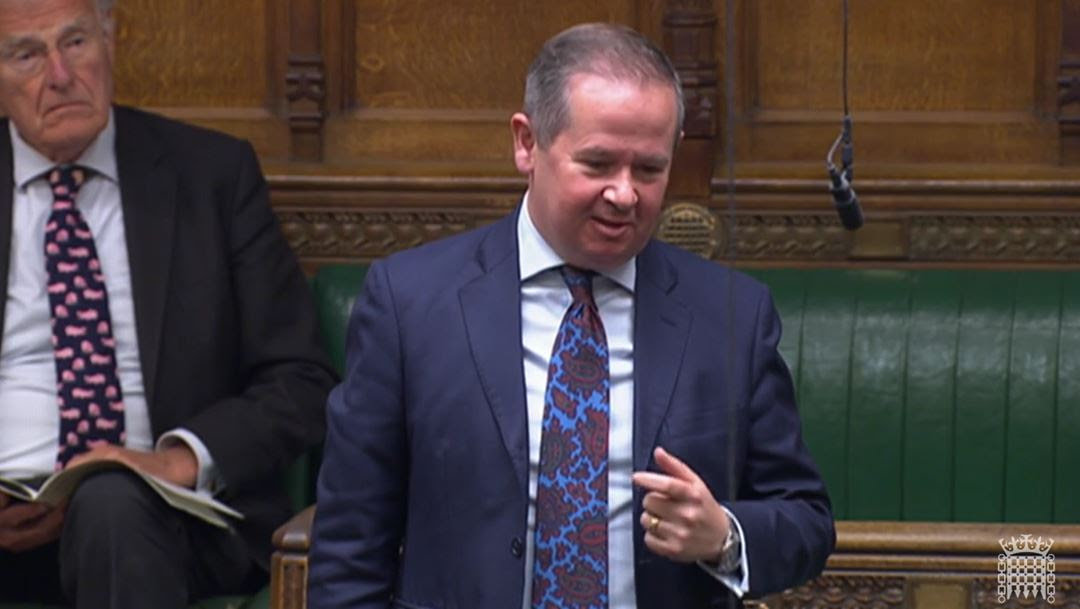 ­
­­­
The Economy
I know that many of my constituents are homeowners with mortgages. A number of these have contacted me recently about the impact of rising interest rates, which is something we are seeing reflected across the world and has led the Bank of England to increase interest rates to 5%, in line with their responsibilities as an independent organisation.
I am deeply sympathetic to all those affected across Ruislip, Northwood and Pinner as I know the anxiety that this issue can cause. I am glad that the Government has already taken steps to support families and households with the effect of increased cost of living. The total support package is worth £94 billion or £3,300 per household. Due to continuing pressure for borrowers, the Chancellor met with the UK's principal mortgage lenders last week along with representatives from the Financial Conduct Authority and UK Finance. Following this meeting, the Chancellor came to Parliament to update MPs on what had been agreed.
During his statement, I had the opportunity to thank the Chancellor for the work that has already been done. As I set out, without intervention many households would continue to cause my constituents anxiety and put the dream of home ownership even further out of reach.
In his response, the Chancellor outlined how the measures agreed will make a big difference for homeowners, especially those in arrears. Measures agreed include the ability to speak to your lender for help, without any impact on their credit file, supporting customers to switch to a new mortgage deal where possible, commitment from lenders to be open with customers providing greater support and also that, unless in exceptional circumstances, a borrower will not be forced from their property in less than a year from their first missed payment.  By allowing greater flexibility, it is hoped that borrowers will have time to get their finances in order and secure their property for the future. 
You can watch this exchange here. 
­­­
­
­
­­­­
Europe 
In Parliament this month, I had the privilege of speaking in a backbench business debate on the role of the Council of Europe. Constituents may be unaware of the importance of the Council of Europe and perhaps unfamiliar with the work being done, often behind the scenes, to uphold human rights, democracy, and rule of law across the continent. In my experience as a group leader, I have seen the work of the Council, touching on matters including migration and asylum.
Since its foundation in 1945 in London, the Council has been pivotal in securing the rights of my constituents seeking to flee from persecution across the world. It is on this point that I began my remarks.
Following the conclusion of the Second World War, politicians from across Europe recognised the need for such an international body. It was Winston Churchill who was an advocate for the creation of the Council as Europe was rebuilt. In recognition of this, many buildings used by the Council are named after the former Prime Minister. While established almost 80 years ago, the Council remains of paramount importance in European politics, ensuring fairness in elections and as a means of keeping states committed to upholding their human rights commitments.
Following on from the speeches made by a number of my colleagues, I focused my remarks on the excellent work of the Council's bodies such as PACE, Council of Ministers, and the Venice Commission. These bodies have contributed to the success of the Council, but work remains underway.
Furthermore, I also talked about how the Council is restricted and the emerging challenges now being faced. This is of particular concern at the moment as Russia has moved from being an active member of the Council of Europe to a pariah in the international community. 
You can watch my contribution to the debate here. 
­­­­
­
­­­
­Summer Reading Challenge  
I was pleased to attend The Reading Agency's Parliamentary drop-in, and to support their mission to encourage primary school children across Ruislip, Northwood and Pinner to take part in this year's Summer Reading Challenge, which launches Saturday 8 July. 
This summer, children aged 4-11 can visit one of the many local libraries we have across Hillingdon and Harrow to join a superstar team and their mascots and get involved in a Summer Reading Challenge. This year, it is themed around the power of play, sport and games, encouraging children to get reading, imagining and stay active over the summer. 
Further information on the Challenge can be found here. 
­­­­
­
­­­
­Elizabeth Tower tours 
Following a five-year conservation project, I am pleased to announce that tours have reopened for the Elizabeth Tower from September. 
As with PMQs, my office will receive a yearly allocation of tickets for free constituent tours. For further information, or to be placed on the waiting list, I encourage you to get in contact with my office via david.simmonds.mp@parliament.uk.
Please note that if you are not a constituent of Ruislip, Northwood and Pinner, you should contact your own Member of Parliament. Tours are also now available for purchase. Further information can be found here. 
­
I am very grateful to residents who have taken the time to contact me this month, and I look forward to meeting with more of you over the coming weeks. 
Kind regards,
David 
You may also be interested in