October 2023 Update
I am pleased to bring you my October 2023 Update. As ever, if you would like to sign up to my mailing list, you can do so on this page or by emailing david.simmonds.mp@parliament.uk. 
Dear constituent, 
It will come as no surprise that my mailbox over the last few weeks has been filled with correspondence from residents expressing concerns about the situation in the Middle East. 
I recognise the extensive history of conflict in the region, which only goes to highlight just how complex and fraught a situation this is. However, no matter the historical actions of both sides, there is absolutely no justification or legitimacy for the atrocities of October 7. There is no moral equivalence between the deliberate targeting of innocent civilians, including children and babies, by Hamas and Israel's right to self-defence against the barbaric acts of a terrorist organisation. 
Of course, the loss of every life is a tragedy and it is important that Israel takes every possible precaution to avoid harming civilians. The UK Government has been resolute in its position that efforts to go after Hamas and deter further incursions must be done in line with the highest standards of international humanitarian law. 
The response is now, rightly, focused on getting humanitarian aid into Gaza, protecting civilians and securing the release of hostages. The Foreign Secretary is working extensively with the Egyptians, the Israelis and others to ensure that humanitarian aid continues to flow to the population of Gaza. I welcome the UK's encouragement for Israel to adhere to international law and protect civilians. 
Elsewhere, work has continued both in Westminster and the constituency. I am pleased to share with you an update of what I have been up to over the past month. 
As ever, if you would like to keep up to date, I encourage you to visit my website, or Facebook page. 
­
­
­­­
­In the Constituency
Surgeries 
I have been continuing my work to support residents this month, having been able to meet with many at my regular surgeries. I am grateful to the local businesses who have hosted me over the past number of weeks: Café Amici in Pinner, Vito's Café in Ruislip, We Love Coffee in Harefield, Bucket List Coffee in Eastcote and Maison du Soleil in Ickenham. 
It felt very apt this month to meet with resident Jenny Nemko at my surgery in Pinner. Jenny is the founder of TalkMatters, whose aim is to encourage a respectful conversation between different faith communities, encouraging a greater understanding of, and providing a safe space to discuss, the Israel-Palestine conflict. If you would like to find out more, please visit the TalkMatters website.
If you would like to make an appointment to meet with me, or if you are a business who would be interested in hosting a surgery, please email david.simmonds.mp@parliament.uk or telephone 0203 545 2462. 
­­­­
­
Speaking with Jenny Nemko from TalkMatters at my surgery in Pinner
­
Support for British Nationals  
As outlined at the start of my newsletter, the situation in the Middle East is deeply concerning, and I know that it is being felt deeply by many residents. Since the terrorist attacks of 7 October, I have visited Pinner Synagogue where I had some profoundly moving conversations with constituents personally affected by these events. 
The safety of all British nationals continues to be the Foreign, Commonwealth and Development Office's top priority, and the Foreign Secretary is working with Israeli and Egyptian counterparts and other international partners to establish a safe passage for British nationals out of Gaza. My team and I have been receiving regular updates on the consular response to the current crisis so as to be informed how to help affected constituents. For those in Israel and the Occupied Palestinian Territories, including Gaza, or whose loved ones may be in these areas, you are advised to register your presence with the FCDO here. 
British nationals in need of assistance should contact +972 (0)3 725 1222 or +972 (2) 5414100. If they experience technical difficulties or if they are in the UK, call +44 20 7008 5000. 
The latest travel advice for Israel can be found on the FCDO website.
­
In Parliament
Parliament has now been prorogued following the conclusion of its most recent session. The first King's speech of the new monarch's reign will be delivered at the State Opening of Parliament on Tuesday, opening the fourth session of this parliament; likely the last before the next general election. The Government has been able to pass 43 government bills, 24 private members bills and over one thousand statutory instruments. 
Parliamentary business has continued up to this point and October was a busy month for Members of Parliament, including myself. I am glad to bring you a brief insight into what my work in Westminster has entailed. 
Economic Activity of Public Bodies (Overseas Matters) Bill
Constituents will be aware of my work to serve the large and established Jewish population in Ruislip, Northwood and Pinner. As part of this work, I have listened at length to their concerns about the long-standing BDS campaign that has singled out the state of Israel and communities of British Jews for criticism and discrimination.
In Parliament last week, the Bill came back for further scrutiny. At this stage, several amendments were tabled by MPs on a variety of issues. I largely support this Bill but as I set out earlier this year, I have concerns about the impact that it may inadvertently have on locally elected officials.
During a speech made by a colleague, I expressed further concern about the impact that this Bill may have on the right of legislators to free speech. This Bill will come back before parliament after the King's speech. 
You can watch my contribution to the debate here. 
­­­­
­
­­­Israel and Gaza
Following meetings in the region with the leaders of Israel, Saudi Arabia, Qatar, Egypt and the Palestinian Authority, the Prime Minister brought a message of solidarity to the region. The Prime Minister then updated MPs on the situation in the Middle East. 
Alongside colleagues, I was glad to have the opportunity to express my support not only for Israel, but also the innocent Palestinian civilians trapped in the Gaza strip. While the UK has pledged an additional £10 million in aid for the Palestinian people, my constituents have told me how their friends and relatives in the region are affected by ongoing events.
In my question, I pushed the Prime Minister on what further efforts can be made to ensure the perpetrators of terrorism are brought to justice under international law. You can watch this here. 
Later, I asked a similar question to the Foreign Secretary. At the session, I asked the Minister about the wider implications of this conflict and the promoters of global terror. The terror attacks in Israel earlier this month were undertaken by the proscribed group Hamas, but the malign influence of Iran is very clear.
Iran's Islamic Revolutionary Guard Corps (IRGC) continues to play a destabilising role in the region, providing political, financial, and military support to a number of militant and proscribed groups. We know that the IRGC continues to be active in the region and is not proscribed as a terrorist organisation here in the UK. I therefore asked the Foreign Secretary to work with our international allies to proscribe the activities of the IRGC.
The Foreign Secretary outlined that this is largely a matter for the Home Secretary but also assured me that all Ministers are working to keep communities here in the UK safe. You can watch my exchange with the Minister here. ­­­
­
­
­­­
­TfL Travelcard
Residents across Ruislip, Northwood and Pinner have long benefitted from access to the travelcard scheme on TfL services. Over 12 million day travelcards were sold last year as travel continues to recover from the impact of the pandemic. These travelcards offer the friends and families of my constituents to make the most of their trip to London and to explore all corners of our city. 
The Mayor had plans to abolish these travelcards and has only just decided to U-turn on this decision. While I am glad that the Mayor has had a change of heart, I am puzzled as to why it got to this point. In Parliament, I raised my concerns with the Secretary of State for Transport in the hopes that he might shed some light on the series of events. 
You can view this exchange here. ­­­
­
­
­­­­Illegal Migration
I know from my conversations with constituents and from the flow of emails to my inbox, how important the issue of immigration is to the residents of Ruislip, Northwood and Pinner. This is also an issue of interest to me and has been for a number of years.
Just last week, I was pleased to question the Minister of State for Immigration about the Government's actions to stop irregular immigration. I have been consistent in my calls to ensure that the UK has a compassionate immigration system that is humane and efficient.
Having recently visited Northern France, I know that despite work being done, public spaces are still full of people waiting to make the journey across the channel. I saw how in the area around Dunkirk, smugglers are using areas away from the beaches to put people on small boats to cross the channel.
In his response, the Minister rightly thanked the French authorities for the work they've been doing already. However, he stressed that due to the nature of European infrastructure networks, collaboration with Belgium and other nations is vital to stop dangerous crossings.
You can watch my question to the Minister here. ­­­
­
­
­­­­Meetings in Westminster 
As part of my regular work, I host meetings in Westminster with constituents, charity leaders and other experts in a myriad of policy topics. This month, I was delighted to have meetings with Natural England and the Indian High Commission as well as a chance to visit an exhibition featuring a local resident's work. 
Natural England was established to help conserve our nation's natural environment and protect it for future generations. I had the opportunity to meet with the organisation to discuss challenges facing our natural environment both in the constituency and the wider region.
Key to this discussion was the upcoming Chiltern boundary review being undertaken by the landscape team at Natural England. While it will not be open for public comment until the summer of 2024, many constituents will be happy to learn that it is poised to be extended. For many reasons, it is unlikely that the Chilterns Hills AONB will be extended into my constituency, but many areas such as Ruislip Woods and Bluebell Woods need further protection.
­­­­
­
­Meeting with Louise Crothall from Natural England in Parliament 
As well as excellent nature, Ruislip, Northwood and Pinner is also home to many constituents with Indian connections. Since my election in 2019, I have been eager to form close ties with members of the community and the team from the Indian High Commission, whose support can be invaluable to many. Following the success of the G20 summit over the summer, relations between India and the UK are entering an important stage as negotiations on the Free Trade Agreement reach a conclusion.
I am grateful to Ovessa Iqbal and the team from the High Commission for their ongoing engagement. In Westminster, Ovessa took the time to brief me on the progress towards the FTA as well as upcoming events including Diwali celebrations in November. There is much to look forward to.­­­
­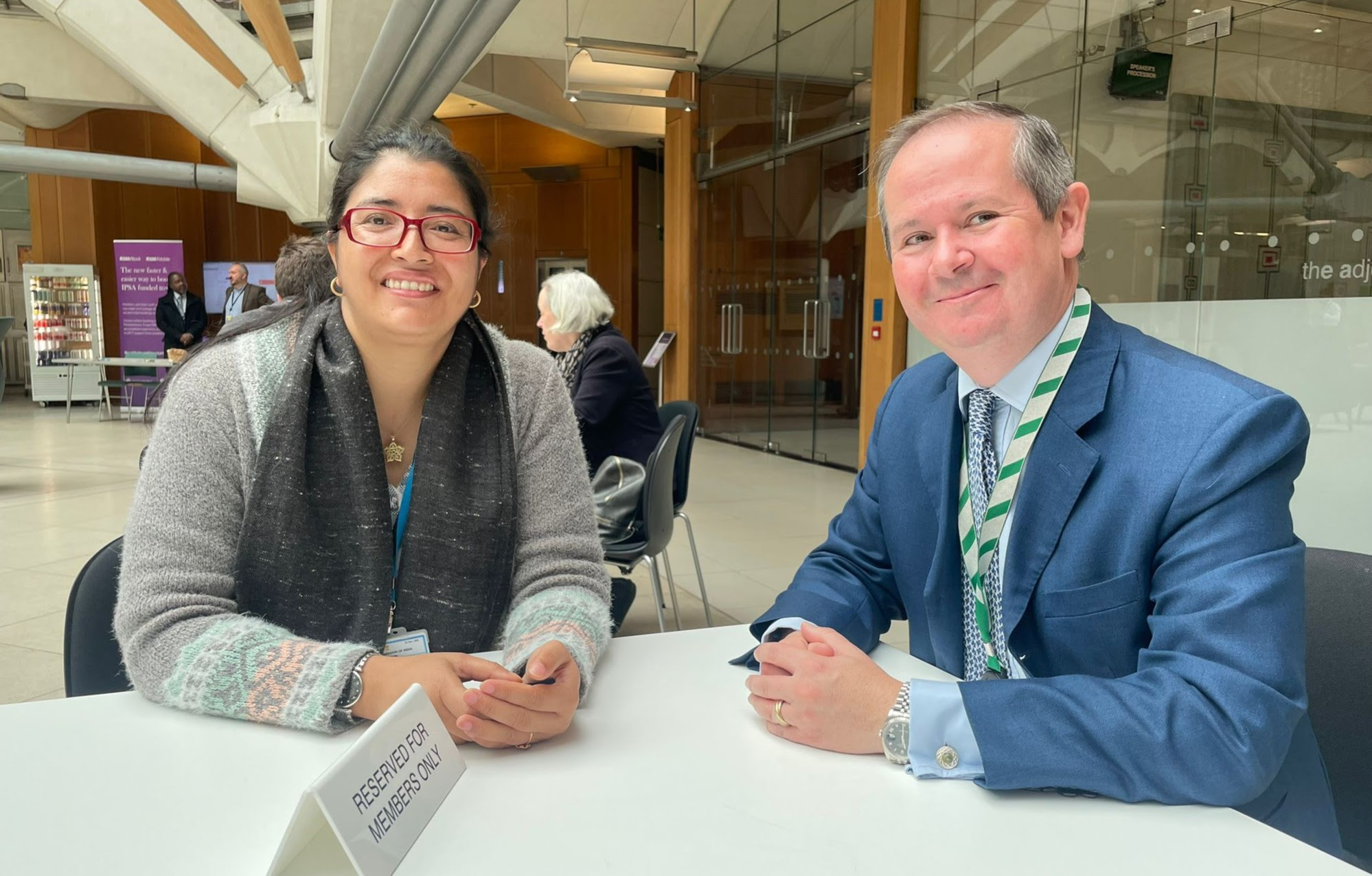 ­
­­­Discussing ongoing engagement with Ovessa Iqbal from the Indian High Commission
In Westminster, one of my constituents invited me to attend an exhibition to celebrate the work of Ukrainian artists living in the UK. I was delighted to have the opportunity to show my support for this excellent showcase. The work on display was truly inspiring, and I am grateful to my constituent who invited me to attend.
­­­­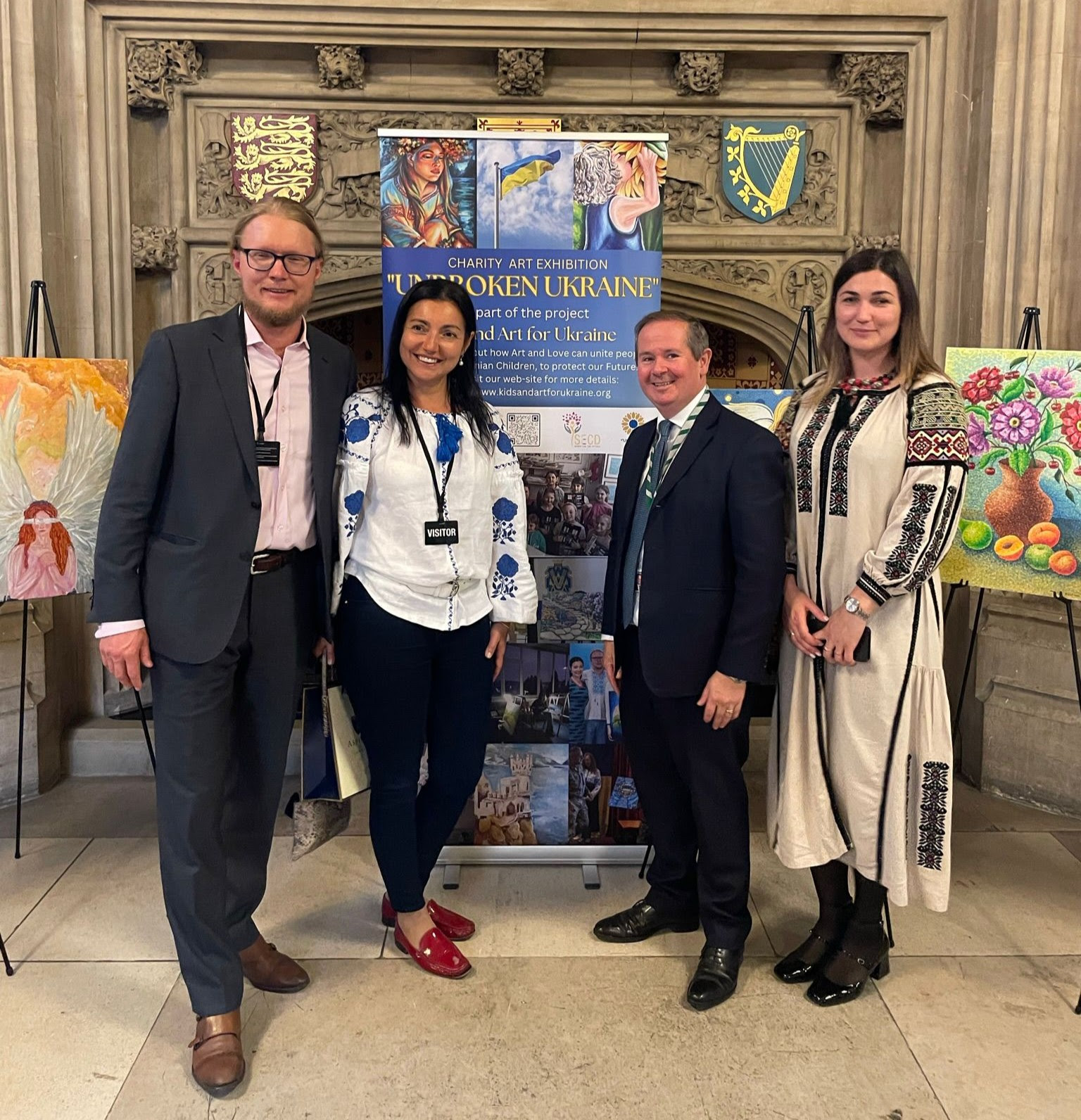 ­­­­
At the Unbroken Ukraine art exhibition in Parliament
­
Deadline Extended for the Christmas Card Competition
Residents may recall that last month I launched my Christmas card competition, inviting children across the constituency to take part. I am pleased to extend the deadline to Friday 10 November to give those who have not yet entered the opportunity to do so.  There is no particular theme this year, so children are encouraged to be imaginative with their festive designs. These can be designed either at school or at home, and all entries should be sent to my constituency office at 10 Village Way, Pinner, HA5 5AF with the child's full name, age and school on the back of the design. 
If you have any questions, please do not hesitate to contact my office. Good luck!­­
­
­­­
Last year's winning design for 'Pets at Christmas' by Ava, Age 4 from Northwood College for Girls
­
I know we are living through some difficult times, and so I would like to reiterate that I am here to support residents. My surgeries will also continue for anyone who would like an appointment to speak with me directly. 
Kind regards,
David